"Die Kristallisation der Grundidee des Faschismus, seiner Philosophie und Mythologie, bleibt unverständlich, wenn man sie nicht auch als eine Revolte gegen den Materialismus begreift."
– Zeev Sternhell, Die Entstehung der faschistischen Ideologie
"Man hat die Hölle wie den Himmel, die Berserker wie die Theologie kampflos der Reaktion überlassen."
– Ernst Bloch, 1930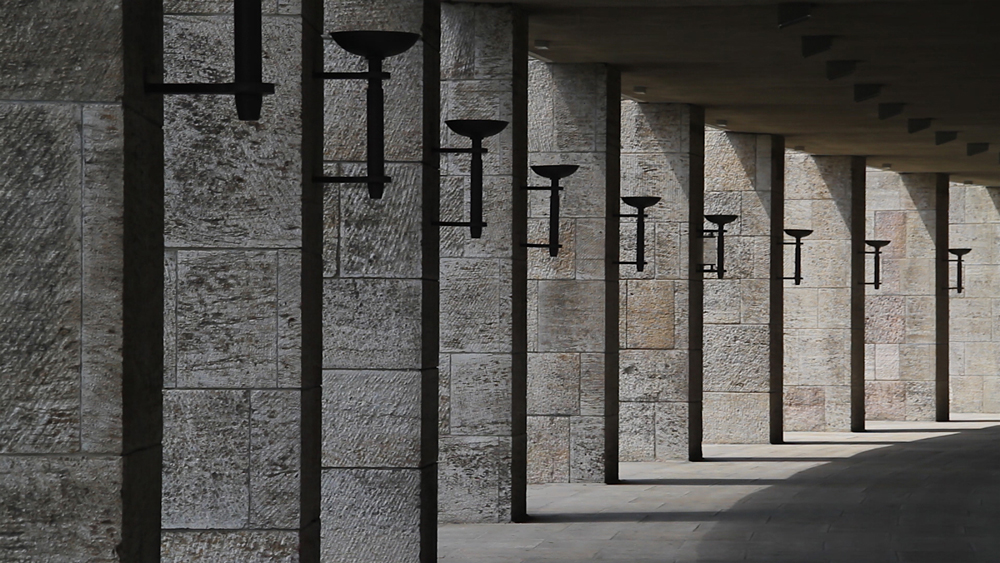 "Jahrhundertwende" ist eine filmische Reflexion zum Verhältnis von Marxismus und Gegenaufklärung, Spätkapitalismus und (Neo-)Nazismus. Zugleich hinterfragt der experimentelle Film das vom TV-Dokumentarfilm gewohnte Verhältnis von Publikum und gesprochenem Kommentar. Gegenwartsbilder und Zitate historischer Texte kommentieren sich in Liewerscheidts Montage wechselseitig und lassen Raum, selbst zu denken.
Der Essayfilm feierte seine Festival-Premiere 2014 in Hamburg beim Internationalen Kurzfilmfestival (IKFF) und erlebte seither zahlreiche Vorführungen mit Publikums- und Podiumsdiskussionen. 2014 wurde "Jahrhundertwende" von der AG Kurzfilm für den Deutschen Filmpreis vorgeschlagen. Im Juni 2015 fand der Film Aufnahme in die Ausstellung "Harun Farocki: Nicht löschbares Feuer…" der Temporary Gallery – Zentrum für zeitgenössische Kunst in Köln, die künstlerische Positionen in der Traditionslinie des 2014 verstorbenen Essayisten versammelte.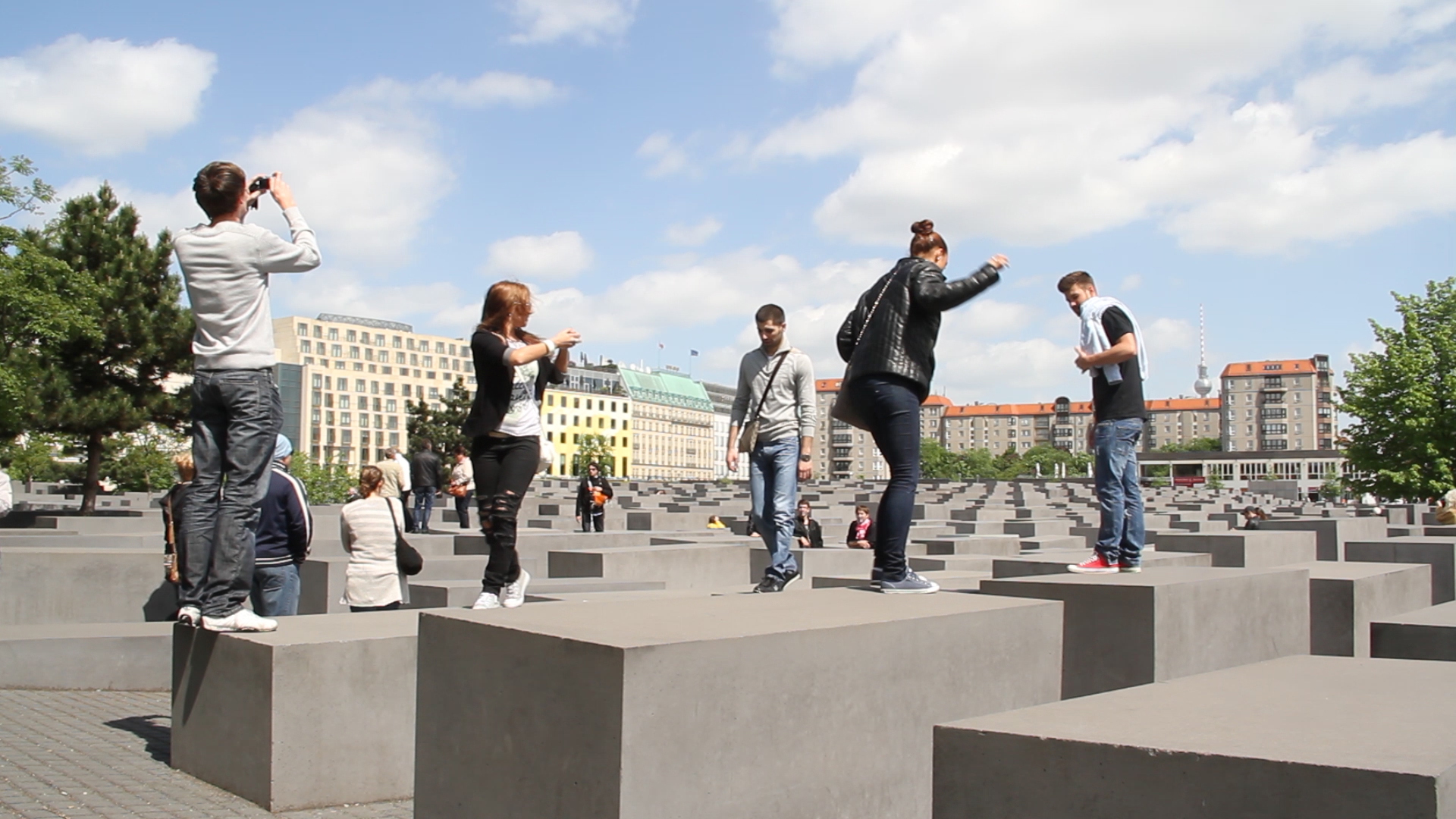 "Jahrhundertwende", D 2012, 30 Minuten
Screenings
19.07.2013: Köln, KHM
09.04.2014: Aachen, Raststätte: Grenzgänge Politischer Theorie
10.04.2014: Oberhausen, Druckluft
05.06.2014: Hamburg, Zeise-Kino, IKFF
07.06.2014: Hamburg, 3001 Kino, IKFF
07.06.2014: Hamburg, Filmraum, IKFF
18.10.2014: Leipzig, Cineding
19.10.2014: Chemnitz, Weltecho
13.11.2014: Bonn, Universität
21.01.2015: Köln, "Best of KHM"
24.01.2015: Düsseldorf, Butze
30.06.2015: Köln, KHM (Seminar "Kurze Formen")
03.-19.07.2015: Köln, Temporary Gallery, Ausstellung Harun Farocki: Nicht löschbares Feuer, 1969
09.07.2015: Köln, Temporary Gallery, mit Prof. Dietrich Leder
09.09.2015: Leipzig, Meuterei
04.10.2015: Berlin, Laidak
20.04.2016: Berlin, Humboldt-Universität
28.10.2017: San José, SJIFA
10.11.2017: Freiburg, Albert-Ludwigs-Universität
23.01.2018: München, iRRland
26.01.-23.02.2018: Stuttgart, Galerie ZERO ARTS
08.02.2018: Berlin, Reflektor
12.04.2018: Berlin, Ludwig – The Fluid Gallery
19.04.2018: Heidelberg, Universität
04.05.2018: Stuttgart, Kunstverein Oberwelt
26.05.2018: Mönchengladbach, Museum Abteiberg
21.-24.06.2018: Berlin, Reflektor
09.11.2018: Trier, Die Rückkehr des autoritären Charakters (Universität Trier)
28.11.2018: Oldenburg, Carl von Ossietzky Universität
07.01.2019: Darmstadt, Oetinger Villa. Filmvorführung und Diskussion, Beginn 20.00 Uhr
Trailer
Sprecher: Moritz Reiter, Rami Hamze
Tonmischung: Ralf Schipke
Kamera, Montage, Konzept, Regie: Moritz Liewerscheidt
Supervision: Dietrich Leder, Andreas Altenhoff, Werner Dütsch
Produktion: Moritz Liewerscheidt und Kunsthochschule für Medien (KHM), Köln
© 2012 Moritz Liewerscheidt
"Aufklärerische Fortschrittsaffirmation und romantische Fortschrittskritik treffen auf die vollendeten Tatsachen einer spätkapitalistischen Gesellschaft. (…) Im Fokus des Films steht vor allem die regressive Tendenz einer Fortschrittskritik, die nicht zufällig in offenen Antisemitismus mündet und außerdem deutliche Parallelen zu zeitgenössischen Formen populärer Kapitalismus- und Globalisierungskritik aufweist. Der Film zeigt auf, dass sich in ihr Kernelemente nationalsozialistischer Ideologie finden und verfolgt schlaglichtartig deren Formierung zum Weltbild. Die Konfrontation von Texten aus einer Zeit vor dem Nationalsozialismus mit Aufnahmen aus dem heutigen Deutschland macht Liewerscheidts Film gleichzeitig zu einer Auseinandersetzung damit, wie im 21. Jahrhundert mit dem Erbe des Nationalsozialismus verfahren wird."
– Arbeitskreis Gesellschaftskritik, Universität Leipzig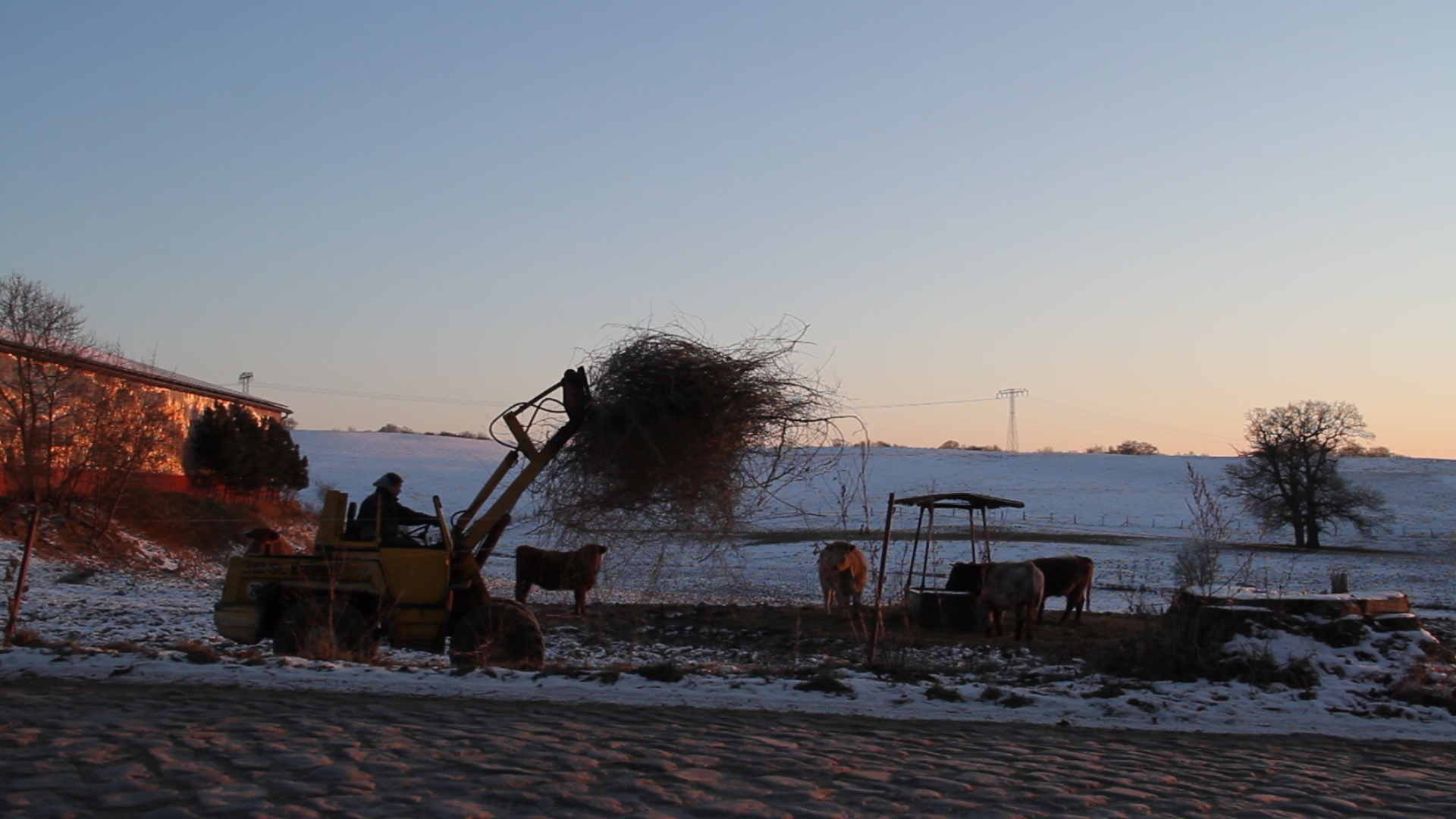 Das folgende Interview zum Film erschien im Januar 2014 in The Sociological Imagination (UK).
"A 1940′s record of a symphony written in late 19th century": Interview with German filmmaker Moritz Liewerscheidt
By Milena Kremakova on January 6, 2014
"Jahrhundertwende" ("Turn of the Century") is a thirty-minute essay film by Berlin-based filmmaker Moritz Liewerscheidt. The film is reflecting both the formation of Nazi ideology in the early 20th century and the situation in today's Eastern Germany, where a neo-Nazi movement has risen since the downfall of the "German Democratic Republic" (GDR). But principally, "Jahrhundertwende" is a contemplation on German culture and Marxist philosophy, capitalism and late modernity.
We at the Sociological Imagination loved the film and decided to interview Moritz about it.
Milena Kremakova: Can you tell us something about the film's background? How did you decide to make it, what was the initial idea – was it an image, a sentence you read, a message you want to convey, or maybe something else?
Moritz Liewerscheidt: On German TV you can see Hitler every evening. For decades, a guy called Guido Knopp made a living by editing the same old Nazi film material over and over again, putting some "critical" voice-over on it spoken by the popular German voice actor who also represents Robert de Niro in the German dubbed versions of his films. All these "documentaries" focus on Hitler as a person. If a magazine puts Hitler on the cover, it's a fail-safe method to increase its sales. People are obsessed with Hitler – not only in Germany. At the same time, people seem to know very little about the ideology behind Nazism. In recent years a shallow critique of capitalism and globalisation has become popular again which argues with moral outrage against "greedy managers", etc. Although this form of criticism is labelled as "left wing", it has nothing to do with the materialistic analysis of capitalist economy pursued by Karl Marx. Instead, the arguments used in this appeal to emotion, are often very similar to those used by the early Nazis – sometimes even brought up with exactly the same words. In my film, you hear a kind of "dialogue" which is made up completely out of historic quotations. The origin of these quotations is revealed at the end of the film. Until then, you are left alone with those statements: no explanation is given, so you have to think for yourself. Counter-intuitively, the voice advocating some positive aspects of capitalism "belongs" to Karl Marx. At the same time, the images of the film reflect the situation in today's Eastern Germany, where vast areas apart from the refurbished tourist spots have become pauperised.
MK: I loved watching "Jahrhundertwende" – in fact I saw it several times and it struck me that I understood more with each time I watched it. This might have to do with my imperfect grasp of German, but also with the weight of its ideas. It made me think for a long time after I had watched it. Do you think it is a film best watched "slowly" or "quickly"?
ML: Thank you. I'd say the film works quite similar to an art installation. The spectator – "contemplator" is a good word – becomes part of an experiment, which requires an active recipient with the disposition to get oneself into it. It's quite the opposite of the documentaries shown on TV, where you have a strong omniscient narrator taking you by the hand. Instead, you have to puzzle out the "big picture" by yourself – you can't just trust the voice-over. For some people this might be frustrating.
MK: Tell us more about the title: "Jahrhundertwende". As many German words, it is maybe impossible to fully translate into English.
ML: "Turn of the Century" is a correct translation. In German it contains the word "Wende", which is the term used for the downfall of the "German Democratic Republic" in 1989-90, but also means "turning point" in general. While the quotations used in the film originate from the 19th and 20th century, the images are from our present, the 21st century. This asynchrony induces some shifts of meaning. But primarily, the title refers to the turn of the century from the 19th to the 20th century, which was felt by many contemporaries to be a period of "decadence" and degeneration, but at the same time a period of hope for a new beginning. The mindset of this age saw western civilisation as being in a crisis that required a massive and total solution. I think this is an essential point in the formation of fascist ideology, which is neglected in the popular media – maybe because it is so inconvenient: that it was born as a revolt against the materialism of the 19th century – both liberal and Marxist –, against literally everything the 19th century stands for: the idea of progress, materialistic science, the universal idea of mankind, rational enlightenment, civilisation. In this regard, Marx can be seen as a typical exponent of the 19th century – and the rise of fascism and Nazism in the early 20th century as a "turning point of the century" – or a rupture in civilisation.
The funny – or should I say disturbing? – thing is that today's "postmodern" criticism of the universal claims of the Enlightenment – which is so popular among academic leftists – has some parallels with the fascist and National-Socialist anti-Enlightenment of the early 20th century. Alfred Rosenberg's "Myth of the 20th century" was all about anti-universalism. The awareness of elements of Nazi ideology which originate in fin-de-siècle "Lebensreform (life reform) movement" seems all the more disturbing, since many of those ideas – emerged in response to the destructive effects of industrialisation to nature and traditional lifestyles – have become part of our "green" mainstream today, after being marginalised for decades after World War II.
Of course, it's much easier to distance oneself from Nazism if you think it was all about being racist and hating jews – and a guy with a clownish mustache. In my film, it might take a while until you realise the "sensitive guy" criticising environmental pollution or the "greed for money" is a fierce anti-Semite.
MK: The imagery and music in the film are gripping and evocative. How did you go about shooting the film and creating the soundtrack?
ML: I was looking for a kind of images which evoke what Freud called "Unbehagen in der Kultur", or discontent in modernity (published in English as "Civilisation and its Discontents"), for I wanted to make comprehensible the affect against the negative aspects of modernity in the first place, which, in a way, fascist ideology gave an authoritarian answer to. Also, I tried to allude to the pictorial design of German Romanticism, especially by the famous painter Caspar David Friedrich. I even carried a book of his paintings with me when filming in Brandenburg. But in place of the ruins of romantic cathedrals, you'll see those of the industry of former Socialist Germany.
The music is a 1940′s record of a symphony written in the late 19th century by Gustav Mahler, but it's played with the wrong speed. So this piece of late Romanticism sounds much darker, even menacing – there's "something wrong with it" from the beginning. Maybe I can add something to your first question. In his book "Erbschaft dieser Zeit" (Heritage of our Times), the Marxist philosopher Ernst Bloch developed a dialectic analysis of German culture, pointing out aspects in the romantic critique of capitalism which are not necessarily reactionary. Still, they could be occupied by the Nazis, since most marxists of the time had a pretty simple notion of "progress", rejecting the irrational hopes and aspirations of romantic anti-capitalism as simply reactionary. By dialectic means, Bloch wanted to fish the utopian fragments of Romanticism out of the "fascist sludge" they had fallen into – for some of them stand to reason. Certainly, Bloch was an outsider with this perspective. To me, this book published in the early 1930′s can be read not only as an astonishingly accurate presentment of the years to follow, but also as a comment on why a neo-Nazi movement could rise just in former East Germany after the downfall of bureaucratic real socialism. Although the book is not quoted in the film, it was a significant influence. […]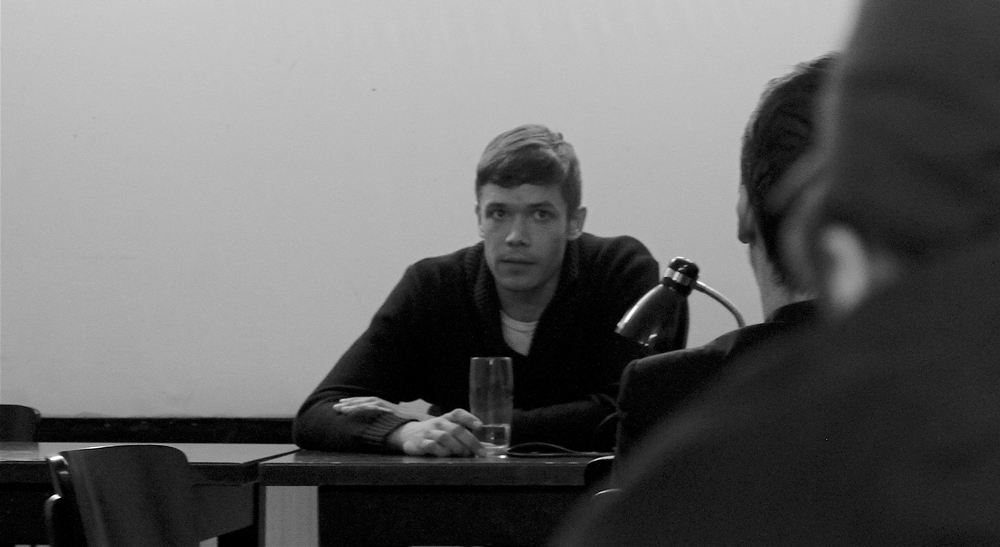 Publikumsdiskussion im Druckluft in Oberhausen, April 2014
Kommentar
Als Negativfolie und Legitimationsgrundlage für den jeweils eigenen politischen Standpunkt wird der ideologische Kern des Nationalsozialismus höchst unterschiedlich interpretiert.
Ein klassischer Linker etwa wird lieber von "Faschismus" sprechen – und diesen als autoritäre Form bürgerlicher Herrschaft in wirtschaftlichen Krisenzeiten charakterisieren, die es in erster Linie dem Kapital ermögliche, munter weiter Profit zu akkumulieren; ein Liberaler wird entgegnen, der Nationalsozialismus sei gerade nicht bürgerlich gewesen, da er das Individuum unterdrückt habe und es sich im Kern um eine Form des Kollektivismus handle, die dem Kommunismus nicht unähnlich sei – schließlich heiße es ja auch Nationalsozialismus. Ein christlicher Konservativer wird sich Letzterem anschließen, jedoch Wert darauf legen, dass der Nationalsozialismus vor allem "heidnisch" gewesen sei und die christlichen oder abendländischen Werte zugunsten eines zynischen Nihilismus verraten habe; ein "Grüner" wiederum wird am Nationalsozialismus gern dessen Militarismus und seine – negativ zu wertenden – Modernisierungsleistungen betonen; und schließlich wäre gar die Position eines Faschisten denkbar, der argumentieren könnte, der Nationalsozialismus habe die ursprüngliche Idee des Faschismus verraten, indem er die Nation durch seine Rassenideologie gespalten habe, während es dem italienischen Original doch um die kämpferische Einheit ihrer Mitglieder gegangen sei, zu welcher der Wille zur Einordnung ins anpackende Kollektiv und nicht die Abstammung entscheidend sei – die biologistische Rassentheorie des Nationalsozialismus dagegen bleibe dem Materialismus des 19. Jahrhunderts verhaftet, den es doch gerade zu überwinden gelte…
Die Nazis, das sind die Anderen. Parallel zur begrifflichen Inflation eines politischen Schmähwortes bis zur absoluten Beliebigkeit hat die politische Linke in den Jahrzehnten seit dem Zweiten Weltkrieg eine Wende vollzogen, die einer Umkehrung ihrer Grundwerte gleichkommt: Während Karl Marx' immanente Kritik des real existierenden Liberalismus noch dessen philosophischen Prämissen – dem Universalismus der Aufklärung – verpflichtet war, betreibt die postmoderne Linke eine von deutscher Romantik inspirierte Identitätspolitik, die ihrem politischen Widerpart – dem "Ethnopluralismus" der Neuen Rechten – in der Ablehnung des Universalismus ebenso ähnelt wie in der Idealisierung lokaler Kulturen und ethnisierter Kollektive, aus deren Zwängen ihre vermeintlichen Angehörigen nicht als Individuen auszubrechen haben.
So darf heute ein Diktum Carl Schmitts aus den 30er Jahren als verbindendes Credo rechter wie linker Identitätspolitik gelten: "Wer Menschheit sagt, will betrügen."
In der Konfrontation von Gegenwartsbildern mit historischen Texten des fortschrittsoptimistischen Marxismus des 19. Jahrhunderts und der völkisch-antisemitisch grundierten Fortschrittskritik des frühen 20. Jahrhunderts möchte der Essayfilm "Jahrhundertwende" noch einmal die Dialektik einer Aufklärung nachvollziehen, die unvollendetes Projekt blieb. Die offene Form des Films, der die Erwartung eines "allwissenden Erzählers" als vermittelnder Instanz gezielt unterläuft, erlaubt unterschiedliche Zugänge und fordert ein kritisches Publikum, das bereit ist, "sich seines eigenen Verstandes ohne Leitung eines anderen zu bedienen".